WIISE
What SMEs always aspired for!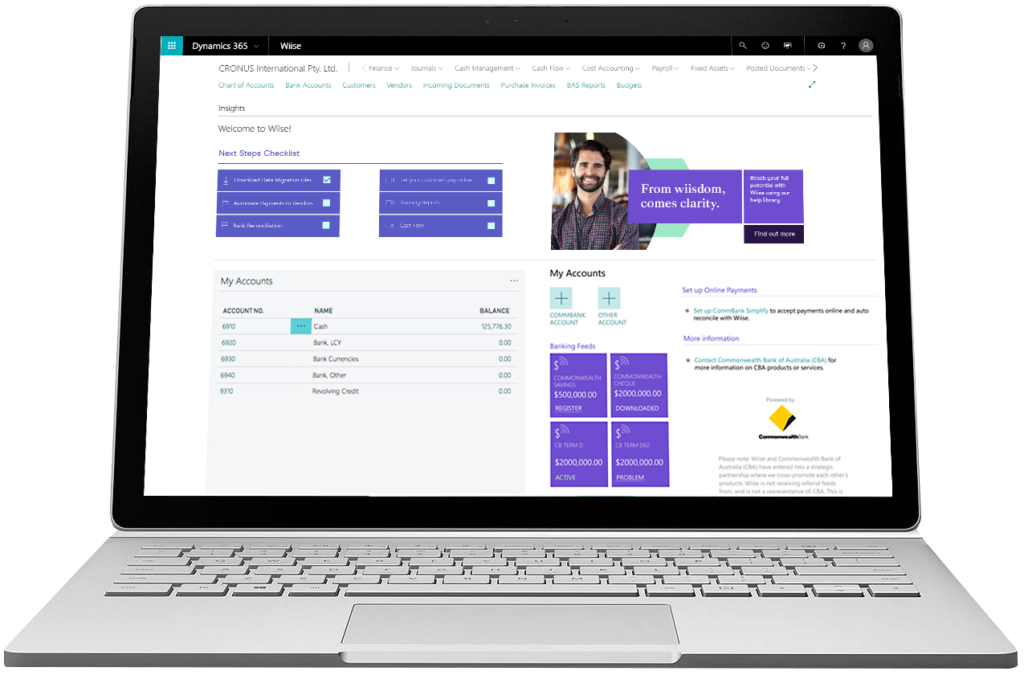 Maximum Impact, Minimum Cost
Despite being the innovation engines across industries, small and medium enterprises have been deprived access to sophisticated tools to boost their operations. It is ironical that for various reasons like cost, lack of scale etc. innovation seems to have missed the innovators; while large organizations have been the actual beneficiaries! But that is all in the past, Wiise combines financial business intelligence, financial business software, operations management, command & control with a host of built-in tools and insights just like the ones used by large enterprises, only that it comes at a fraction of the cost. Developed by KPMG Australia, on Microsoft platform and supported by Commonwealth Bank, Wiise helps handle the complexity of running a business. The three formed a strategic partnership, working together in fintech hub Stone & Chalk to develop clever new business software that helps manage financial business intelligence, accounting, payroll and banking, HR, inventory and manufacturing.
Product Overview
See WIISE in action
Watch this short video to learn more about WIISE and how it can help you run your business better.
There is a WIISE just for you
WIISE Lite
suited for most businesses, it is designed to handle business functions viz. sales and purchases, base inventory management, basic CRM (Customer Relationship Management), and reporting with two levels of tagging.
WIISE Business
has been developed to cater to more complex operations with higher workload. Manage inventory like never before with tight controls on the cost of your projects and warehouse storage. Have a complete picture of your business with unlimited tags for reporting and the ability to transact between your companies.
WIISE Premium
your business is rocking, customers are increasing, and operations are spreading across geographies like never before. But you don't have to worry. You have been Wiise. Just upgrade to Wiise Premium and you are able to do more from tracking after-sale services and extended manufacturing capabilities.
However at anytime you don't feel you need all the functionality in one edition, simply move down your subscription.
Key Features